Highlights:
100% pure ancient tree leaves picked in 2011, pressed in 2016
Extraordinary fragrance, aftertaste, sweetness and patience
One of the deepest Qi experiences available
Aged as maocha from 2011 to 2016 (Taiwan dry storage) it both has little astringency and bitterness (typical of well aged tea), but also feels like a younger tea due to very strong smells and high flavour notes more common to non-aged ancient tree puerh.
I tend to brew it with light clay that doesn't change the tea very much (or silver) because there are really no defects to hide, I also tend to brew it with colder water at first (~80c) to bring out great sweetness. This tea quickly became a few well-drank long term tea lovers "Favourite Yiwu".
Real 100% pure ancient tree (not just "old" tree) from a premium area in Yiwu, with more character and depth not just than most Gua Feng Zhai but also various Cha Wang Su (the most famous garden in GFZ), as far as I'm concerned, this tea is the definition of depth in Puerh, both in terms of taste and Qi.
But enough words, try your sample, the tea will speak to you (or not, as the case may be) much more clearly than I can.
Full cakes are available inside Treasures by Puerh.uk.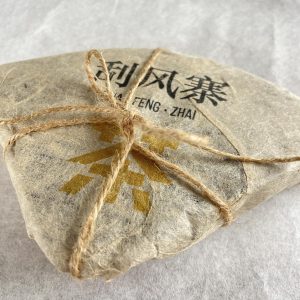 Puerh.uk Gold Mark Tier 5 Series Introduction
Pure ancient tree puerh from clean natural tea gardens
The very best of what real tea masters make for themselves and their friends
Exclusive pressings only obtainable with relationships (guanxi)
The best tea is not for sale, it's available only through relationships. Tiny productions made by real puerh masters for themselves and their friends, originally in white paper or with minimal wrappers.
Tier 5 is about 0.01% of available Puerh, with pure ancient tree leaves and with all taste qualities present in overwhelming amount, tea that is basically only found in elite asian circles and via private connections.
For years now I've asked real lovers of Puerh to share with me their own not-for-public-sale productions. These tend to always be very very good, but so far only 3 teas, among the many I've had the honour to try, have made the cut for Gold Mark Tier 5 Series.
Years of relationships (and months of negotiation) went into obtaining small amounts of this tea. Because it's not commercially available we're able to offer it at a very friendly price for the very high quality (particularly to allow as many people as possible to try a real Tier 5 tea). The only catch: we can generally only get a few cakes, rarely few tongs.
Approx. 80-85g triangles.