The best of the best, sourced directly from the private collections of elite tea producers, masters, teachers and senior collectors. Puerh.uk is particularly known as "tea for the pros" and treasures is going even more in this direction.
Tea that's simply not available elsewhere, obtained through long and deep relationships with the real masters of Puerh like Chen Yuan Hao, Tony Chen (Xi Zi Hao), Bi Yun Hao, and other tea lovers with decades of experience in producing, aging, collecting, teaching about tea.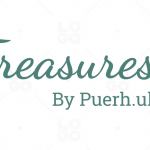 What?
Treasures are usually a sheng puerh made of 100% pure old tree and/or (excellent material) well aged sheng puerh. Sometimes there are other old teas, teapots and the odd unique "tea art" piece.
Guiding principles:
Purity: clean (clean storage and absolutely no pesticides) and the best leaves available for the area and age
Flawlessness: tea that drinks without any defect – smooth, sweet, bitter, thick, strong aftertaste
Character: memorable tea, not bland copies
Why?
I want to drink tea like this and share it with who can appreciate it!
By buying a few pieces I make it more worthwhile to the elite collectors to share some of the tea that's usually just for them, their close friends and their best clients.
How to get access?
Please subscribe to our newsletter, a link to treasures can be found at the end of each email.