Highlights:
100% pure old and ancient tree leaves
Unspoiled hard to reach forest tea garden with clean old trees
Powerful: nice bitterness, low astringency, intense flavour getting sweeter with age
From a secret forest tea garden in Meng Sa (Lincang) comes this very unique, powerful tea. It has very good flavour intensity, strong aftertaste, unique single estate character, deep Qi and flavour transformation.
Pleasant bitterness in the first half of the session that later becomes sweeter and sweeter without losing character, it has had Taiwanese natural storage and will get even sweeter and thicker with age.
The long term puerh drinker will immediately find the charming gentle strength that can only come from cakes made with 100% pure old tree. The beginner may need a few sessions to really appreciate the depth and power this tea has.
This is what the maker has to say of the tea: "After searching for years I've had the good fortune (tea karma) to have the rare opportunity to pick tea from this unspoiled garden. The area is hard to reach, full of ancient trees, clean and pure. Made with traditional technique, the flavour increases with aging, it has a unique strong qi and taste. I made this with my heart to share with my friends, I hope you can enjoy it".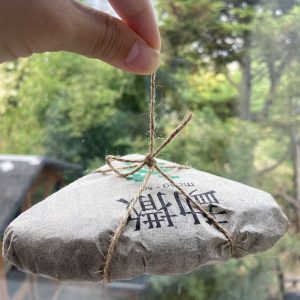 To celebrate my birthday and the release of the first Puerh.uk Green Mark Tier 4 cake, silly low price for this tier quality of tea, enjoy!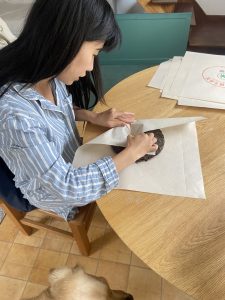 Puerh.uk Green Mark Series Introduction
Genuine old tree puerh from clean natural tea gardens
What real tea masters make for themselves and their friends
Exclusive pressings only obtainable with relationships (guanxi)
Very high quality/price ratio
The best tea is not for sale, it's available only through relationships. Tiny productions made by real puerh masters for themselves and their friends, originally in white paper or with minimal wrappers.
Years of relationships went into obtaining small amounts of this tea, because it's not commercially available we're able to offer it at a very moderate price for the very high quality. The only catch: we can generally only get a few cakes, rarely few tongs.
357g cakes, approx. 85g triangles (individually packed).