Highlights:
Big and old tree Lao Ban Zhang
Deep aftertaste, strong fragrance, long, thick, satisfying brew
Bitterness transforms into sweetness immediately
Uplifting Qi with a strong sense of well being
True Old Tree Lao Ban Zhang is not overly astringent or bitter. This is what makes it stand out from the wider Banzhang area and Menghai in general: the bitterness turns into sweetness immediately (not after one or few seconds as with most tea), it offers an extremely well balanced strong rich taste where there's plenty of sweetness, thickness, bitterness while the astringency doesn't stand out.
But because this quality of tea is extremely sought after and almost unheard of, many think that LBZ must be very bitter or astringent! Even popular brands that produce real LBZ use bushes and young trees and indeed make a very unique strong tea, but with a taste that's not balanced by sweetness. True high quality LBZ should always feel easy to drink, even when it's fresh.
This tea has a high amount of old tree in it and you can easily tell: the body easily accepts it and the taste is strong but very well balanced, leaving a sweet aftertaste without any drying or astringency.
Another tell-tale of true LBZ for those sensitive to Qi: A sense of well being pervades the body when drinking this tea, Qi is uplifting but calm, steady, peaceful, a great combination!
Taiwan dry storage slightly enhances the natural greatness of the material, subtly deepening it. In the words of one of our tea guests when trying it blindly: "This is how puerh should be".
Made by Mr Ho (the same maker of our acclaimed 2016 Puerh.uk Gua Feng Zhai Gold Mark), he explained how this was the only year the could find great material at a reasonable price. It hasn't been possible to make this tea again after 2017 and he doesn't think it will be possible ever again (without it needing to cost about 2-3 times as much).
Full cakes are available inside Treasures by Puerh.uk.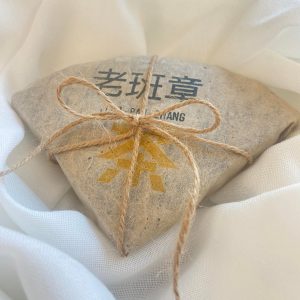 Puerh.uk Gold Mark Tier 5 Series Introduction
Old and ancient tree puerh from clean natural tea gardens
The very best of what real tea masters make for themselves and their friends
Exclusive pressings only obtainable with relationships (guanxi)
The best tea is not for sale, it's available only through relationships. Tiny productions made by real puerh masters for themselves and their friends, originally in white paper or with minimal wrappers.
Tier 5 is about 0.01% of available Puerh, with ancient tree leaves (or as in this case, high percentage of old tree leaf from an area that has extraordinary characteristics) and with all taste qualities present in overwhelming amount, tea that is basically only found in elite asian circles and via private connections.
For years now I've asked real lovers of Puerh to share with me their own not-for-public-sale productions. These tend to always be very very good, but so far only 3 teas, among the many I've had the honour to try, have made the cut for Gold Mark Tier 5 Series.
Years of relationships (and months of negotiation) went into obtaining small amounts of this tea. Because it's not commercially available we're able to offer it at a very friendly price for the very high quality (particularly to allow as many people as possible to try a real Tier 5 tea). The only catch: we can generally only get a few cakes, rarely few tongs.
Approx. 80-85g triangles.